Deal close over Ashton Vale disputed town green status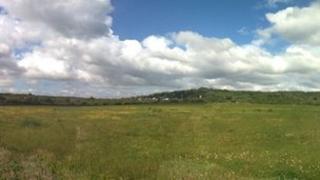 Campaigners and Bristol City Council are on the brink of a deal in the three-year dispute over land at Ashton Vale, the BBC understands.
It is believed the southern half of the land will become a town green while the northern half is sent back to an inspector for a decision on its future.
Bristol City Football Club was given permission in 2009 to build a new 30,000 seat stadium on the land.
A year later an independent inspector ruled the area should be a town green.
Bristol City Council then went against the inspector's recommendation and said only part of the land should be made a town green, which would have allowed the stadium development to go ahead.
That decision was challenged by people campaigning for the area to be a town green and the matter was referred to judicial review, which is scheduled for Thursday.
The deal means the judicial review is unlikely to go ahead but a new public inquiry will need to be held to decide whether the northern part of the land should be granted town green status or be available for development.
The precise terms of the deal are expected to become known later.