Bath Crematorium reaches a compromise over cross
10 June 2012

From the section

Bristol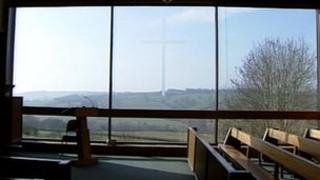 A compromise has been reached over a controversial cross at Haycombe Chapel crematorium in Bath.
Bath and North East Somerset Council removed the window with the etched cross as part of a wider refurbishment.
But after a 4,000-strong petition against its removal, the council is set to install a new cross, which can be removed when requested by families.
The council decided to remove the etched window to make the building more accessible for all faiths.
Conservative councillor for Weston village Colin Barrett said: "There will be a cross permanently in front of the window and it will only be removed if it is asked for, and then it will be replaced immediately there.
"Now we are waiting for what sort of cross will be suspended in front of the window."
Despite its name, Haycombe Chapel is not a consecrated space and is not a church or church-owned building.
About £140,000 was spent on replacing the windows and carpets and installing a new sound system.