Bristol allotment owners object to bus route bridge plans
31 May 2012

From the section

Bristol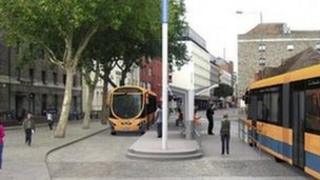 Allotment owners in Bristol have pledged to oppose plans to concrete over their land to build a new bridge serving a bus route to the city centre.
Bristol City Council wants to build on the allotments at Stapleton and link the new bus route to the nearby M32.
But the Stapleton Allotments Association called the council plan an "act of vandalism" and said it would use legal means to stop it.
A council spokesman said more than half the allotments would be retained.
"Approximately 60% of the allotments would remain in their existing place with 40% to be relocated immediately adjacent to the existing Stapleton Allotments site," the authority said.
"We would pay for all the work required to relocate any affected allotments."
A park and ride facility may eventually be added at the site but is not part of the council's latest plans.
A statement from the allotments association claimed the site was "prime agricultural land".
"It has been cultivated for decades, providing leisure, healthy activity and locally produced food for more than 50 years," the group added.
"It is also a haven for wildlife and a valued green space. For a city aspiring to be European Green capital and where there are long waiting lists for allotments, the proposal to cover the site in concrete turns common sense and logic on its head," the statement said.
The council said the route was chosen following an "extensive" study "to identify the best possible route for rapid transit".