Bristol businesses given A-board guidelines
29 May 2012

From the section

Bristol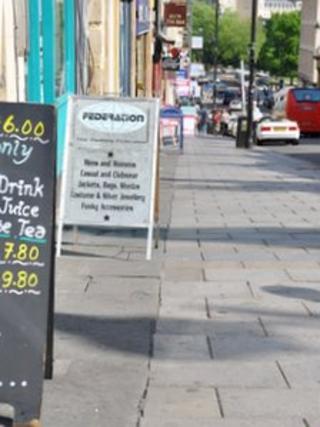 Bristol businesses with A-boards outside their stores have been given a list of guidelines to stick to.
The city council said it received about 10 complaints a week about the adverts.
The guidelines relate to the size, colour and wording of the advertising signs, as well as their position outside the shop front.
Councillor Tim Kent said an "all-out purge" was not appropriate, but the council needed to take a firm approach.
Any A-boards creating a nuisance or posing a danger are likely to be removed. Businesses will be charged £50 to reclaim each board.
Persistent offenders will be prosecuted.
Mr Kent, executive member for transport, said: "In the right places, A-boards are attractive and useful to customers as well as businesses.
"But we need to take a firm approach, where boards are badly placed."
The council said inappropriately placed boards were dangerous for blind and visually impaired people.
It also said they could also make pedestrian access more difficult - particularly for wheelchair and pushchair users - and even discourage visitors.
Destination Bristol's operations director John Hirst said: "Discussions with the council have resulted in a set of guidelines which take a sensible approach.
"A-boards have their place, but that place is not obstructing the pavement and impeding access. Every business understands that."