Bristol student battles condition affecting his sight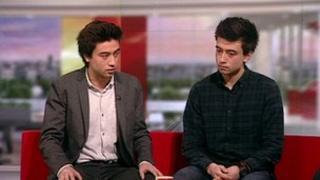 A Bristol student has described losing his sight to a rare genetic condition as one of the "best and worst" moments of his life.
Daniel Smith, 20, was diagnosed with Leber's hereditary optic neuropathy (LHON) five months ago, but is determined to finish his degree in aeronautical engineering at the University of Bristol and to gain a good job.
Mr Smith, a second-year student, is now the first visually impaired engineering student at the University of Bristol.
"If you see me walking to uni it'll all be done from my memory," said Mr Smith, who lives in Clifton and can now only see shadowy shapes.
"I'll know every single crossing, which way the traffic's going, when the lights will be green [and] red. You have to learn all these tricks just to make life easier."
Hereditary condition
Leber's hereditary optic neuropathy is the loss of vision as a result of the death of cells in the optic nerve, causing it to stop relaying information from the eyes to the brain.
The condition has no known cause or cure, and is only known to affect 150 people in the UK.
Although it is a hereditary condition, linked to a number of genes, Mr Smith has been unable to find any family history going back four generations.
His identical twin brother, Michael, first noticed his vision beginning to fail towards the end of 2009, less than 12 months before Dan.
Michael's diagnosis forced him to abandon his degree in medicine in London and he is now studying geography.
Losing his sight has meant Dan has had to adapt his life in Bristol, re-learning how to cook, how to take notes during lectures and how to buy clothes - he uses a high-powered desktop magnifier to help him choose.
"I scan it over on the internet with my software and then I get a good picture of what it looks like," he said.
"Then I'll go and try it on in a shop and take a picture of myself in the changing rooms and then I can get under that [magnifier] again.
"It's a dilemma really but you just have to go with your flatmates and get help. You haven't got another choice really.
"You are a burden on other people but I've got a good group of guys here who understand the situation and for that I'm quite lucky."
'In denial'
Meeting girls has proved difficult since Mr Smith lost his sight.
"I don't really talk about it to other people. One way to kill a conversation is by saying 'I lost my sight five months ago'. What does someone say to that?"
Mr Smith admits that he is still "in denial" about what has happened.
"I've been without my sight now for five months and it feels like I've been visually impaired my whole life. I can't actually remember what it was like to see.
"I don't think I'll ever accept what's happened. I think at the start you do have your very dark moments and you do have your pangs of self pity and you do have a cry.
"When it does happen to you it's just the shock and disbelief of it all."
Despite his difficulties, Mr Smith said there had been benefits from losing his sight.
'Confidence boost'
"If you had met me six months ago, not knowing if I was going to lose my sight, I wasn't a very happy person.
"I didn't go out. I wasn't very socially active [and] having that dark cloud hanging over my head was really not a very healthy way to live.
"So, I think losing my sight has been a massive confidence boost ironically.
"It's been the best and worst of years for me, in a sense.
"It is very exciting, not one day is ever the same. A lot of doors closed but a lot of other doors opened at the same time.
"Every day is a bit of a fight really [and it's] extremely upsetting because you realise your sight's deserting you and there's nothing you can do about it.
"That's why I get out every day. When I'm by myself I wallow in self pity. Is it the best thing that's happened to me? No, but there are certainly a lot of positives that have come out of it."