Vote 2012: Bristol 'confusion' over similar mayor names
26 April 2012

From the section

Bristol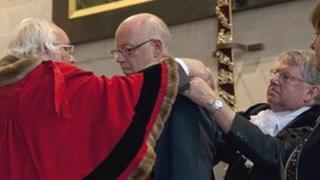 The lord mayor of Bristol claims his title is being confused with that of the proposed directly-elected mayor.
Geoff Gollop said having the same name as a role which is more similar to an American-style governor was "causing the confusion".
People in Bristol and nine other English cities vote in directly-elected mayor referendums next week.
"In an ideal world one might rebrand the name," said Mr Gollop, who is nearing the end of his term in office.
'Fundamentally different'
"However, because the legislation incorporates it, I suspect that we are going to be stuck with it and therefore it will be up to the incumbents of the two posts to make sure that they establish the differential between the two.
"I'm not giving an opinion but I certainly believe it would help people to understand what is being offered if the term was different to that of mayor."
Head of legal services at Bristol City Council Stephen McNamara said: "It is unfortunate that both would have the name 'mayor' - they are fundamentally different.
"The lord mayor is the first citizen of Bristol. They perform a range of ceremonial functions but do not have any powers in their own right. They are a symbol of Bristol.
"An elected mayor would have given to them all the executive powers of the council. They would be the person responsible for the decisions of the council."