Bristol Downs water pipe plan is given approval
22 April 2012

From the section

Bristol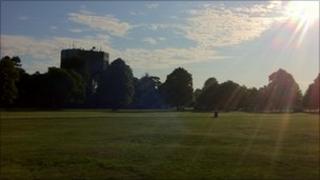 A plan to lay water pipes beneath the Downs in Bristol has been approved.
Bristol Water wants to lay the water main under sections of the green space from Pembroke Road to past the water tower at Blackboy Hill.
Bristol City Council previously said the pipeline would cause "significant impact" on the Downs.
The water company said the new pipeline would help to give "security of supply" to residents of Bristol.
A city council report said the authority was in discussions with Bristol Water about compensation for disturbance on the Downs and officer time spent on the project.
"Officers are close to concluding negotiations with Bristol Water and will continue to monitor the project as it progresses," the report added.
Bristol Water's plan is part of a wider scheme to run a new pipe from Harry Stoke, in the north of Bristol, to the firm's reservoir in Clifton.