Heart screenings call by Bristol cardiologist
19 April 2012

From the section

Bristol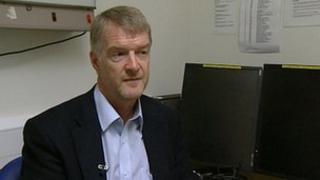 Sportspeople in the UK should receive heart screenings by law as they do in Italy, a Bristol cardiologist has said.
Dr Graham Stuart, a consultant cardiologist at the Bristol Royal Infirmary, said that one in every 500 adults in the UK has a condition that may cause cardiac arrest.
Hypertrophic Cardiomyopathy (HCM) can be brought on by strenuous exercise.
The disorder is an enlargement and abnormality of the heart muscle that can cause an abnormal rhythm.
Presently, only top-flight athletes are compulsorily tested to see if they have a potentially dangerous heart condition.
"In Italy, by law you have to be screened on an annual basis if you're taking part in regular, competitive sport," Dr Stuart said.
"Also, in many parts of Europe at amateur and young adult level you have to have an electrocardiogram (ECG) before taking part in something like a tennis tournament.
"In the UK that's not the case, and I think it would merit some proper research to see if it would make a difference."
Economic issues
Dr Stuart said he was personally in favour of compulsory cardiac screenings for sportspeople in the UK, but admitted there were economic issues which may prevent it.
"If you were to screen every sportsman, then that's a very expensive process for the NHS," he said.
Hypertrophic Cardiomyopathy is a hereditary disease that can be passed from parent to child.
Dr Stuart is now the family cardiologist to Jen Ashton from Westbury-on-Trym and her three children.
Mrs Ashton's husband Steve was 32 when he collapsed and died from HCM following a basketball game in November 2010.
She said: "I agree that as many people as can be should be tested.
"Had Steve been screened when he was playing semi-professional basketball then they might have been able to do something for him."
Since Bolton Wanderers footballer Fabrice Muamba suffered a cardiac arrest during a game against Tottenham Hotspur on 17 March, there have been a number of calls from those in the medical profession for regular heart screening for footballers.
The midfielder was diagnosed with HCM and spent about a month at the London Chest Hospital.
He has now been discharged and is continuing to recuperate at home.