Bristol students look for city walk sponsors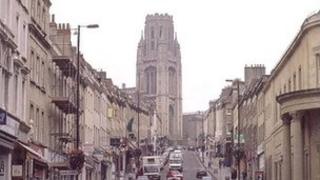 A group of students who give a free historical tour of Bristol want to turn their hobby into a business.
Walking Bristol was the brainchild of James Bogie, 20, from County Down, who moved to the city to study medicine.
It was launched last year with freshers in mind but the tours have been so popular with tourists he is seeking funding to grow the enterprise.
Mr Bogie said the "narrative history" tour explored the characters and stories that had shaped Bristol's past.
"There are some really great tours already happening in Bristol, like a pirate tour and a ghost tour, whereas ours is more of a general tour," he added.
Currently the student tour guides rely on tips alone but in order to expand the group is looking for funding.
This is currently being done through the Sponsorcraft website which students can use to appeal for sponsorship for their ideas.
Walking Bristol has set a fundraising target of £300 on the website.
Mr Bogie said the money would be used to cover website and advertising costs and to print personalised maps of Bristol.
The tours run on a Saturday and mainly focus on the city centre, visiting places such as the Wills Memorial Building, Castle Park, the floating harbour and St Nicholas Market.