Bristol mansion squatters charged by police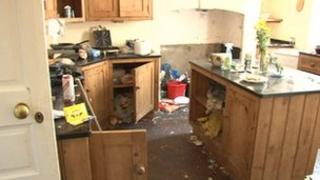 Police have charged five people after evicting squatters from a Bristol mansion which led to officers being pelted with stones and bottles.
The charges involve public order offences and assaulting police involved in the operation at Clifton Wood House on Clifton Wood Road.
Officers were called to the property early on Sunday morning after complaints about a noisy party.
About 40 squatters were ejected and 11 were subsequently arrested by police.
The ages of those charged range from 17 to 19-years-old.
The area was closed off around Constitution Hill and Clifton Wood Road during the police operation.
The force had to call for back up when officers came under attack.
About 16 police cars and four riot vans attended the operation.
The property is now sealed off by the legal owners, the Bank of Scotland, and 24-hour security has been brought in to prevent future break-ins.
The Grade-II listed property is thought to be worth nearly £3m.