Bristol hospitals record 90% drop in superbug cases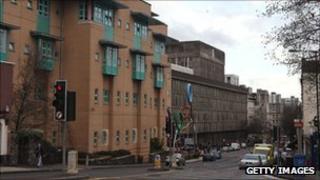 Superbug cases in Bristol hospitals have dropped by up to 90% over the past five years, figures have revealed.
Some 364 cases of clostridium difficile and 47 cases of MRSA were recorded by University Hospitals Bristol (UHB) between April 2007 and March 2008.
Those numbers have dropped to 54 and four respectively for the past year.
A UHB Trust spokesperson said people had now moved away from the idea that infections were inevitable if you spent time on a hospital ward.
'Infections are preventable'
"Up until five or six years ago, people thought that because you were elderly or had a chest infection and were on antibiotics, you would get an infection such as C. diff," said Christine Perry, trust director of infection and disease control.
"Now people see it very differently, that infections are preventable."
UHB covers nine hospitals including Bristol Royal Infirmary, St Michael's Hospital and Bristol Royal Hospital for Children.
Its teams perform an average of 86 operations a day; roughly 40 day-case and 46 inpatient operations.
Ms Perry described norovirus as a "community infection" and said it was often brought into a hospital by a patient who was incubating the virus.
If a norovirus outbreak is detected on a ward, hospital protocol kicks in which includes restricted admissions, nursing staff to work alone on that ward during a shift and greater sanitation measures.
The statistics for the previous five years are: