Arena plan for Bristol back on drawing board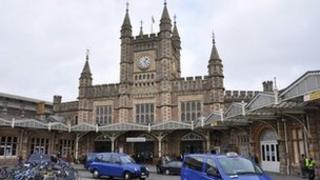 A fresh attempt is being made to build an entertainment arena on land next to Bristol Temple Meads railway station.
Several plans have been put forward since 2003 but the idea was dropped in 2007 when costs rose to £86m.
Then in 2009, plans for a 15,000 seater music and sport venue were proposed with a second site for the development indicated at Ashton Vale.
Now, Lib-Dem-controlled Bristol City Council has said it would fund the project through a Bristol Bond.
Leader Barbara Janke plans to ask cities minister Greg Clark for the ability to bring back the municipal bond - a way local authorities could previously raise cash.
She said the authority had already held discussions with Bristol banks over how such a fundraising scheme would work.
The arena is one item on a wishlist of 11 for Bristol that also includes greater transport powers, more infrastructure for the Avonmouth area and a repeal of town green legislation for the city.
The original arena plan was shelved in 2007 with developers blaming "spiralling costs".
Then in 2009 a bid was submitted by a rival developer.
Two locations were suggested, one close to Temple Meads, the second at Ashton Vale alongside Bristol City Football Club's proposed new stadium.
It was argued the Temple Meads site was more accessible because it was situated at a public transport hub.
But, speaking in 2009, Councillor Simon Cook from Bristol City Council said if the arena was built at Ashton Vale it could share the football club's transport plan.
Currently, the city's biggest music venue is the Colston Hall, which can hold about 2,000 people.