Weston-super-Mare seafront stall owners to bid for pitches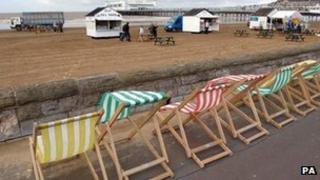 Twenty of Weston-super-Mare's seafront traders are to bid for their pitches all at the same time in April.
The stalls, which are licensed by North Somerset Council, include donkey and childrens' rides and food stalls.
Darren Fairchild, from the authority, said tenders for the pitches would be handled with sealed bids with the council deciding which ones to accept.
"I can't promise everybody who currently has a pitch will be successful in the re-tender," he said.
Mr Fairchild added it was unusual to have so many pitches being decided at once.
"Due to some of the redevelopements we've got virtually them all expiring at the same time.
"It's handled under sealed bids and it's always been done that way," Mr Fairchild added.
Kevin Major, whose family has run donkey rides on the seafront for the past 125 years, said it was a "worrying time".
"They've changed it all and now you've got to put in a business plan and put in what investment you're going to make.
"Most of it used to be done with sealed bids but it's changed over the past 10 years."
Mr Fairchild said the process would begin in April and a decision on bids would be made by June.