North Somerset petitions against street lighting plans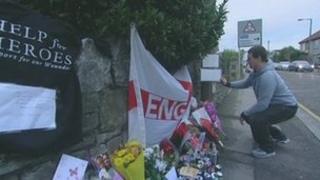 Nearly 800 people have signed a petition opposing plans to keep street lights switched off in a North Somerset town where a man was killed.
Edward Heal died when he was hit by a car on Kenn Road, Clevedon, in the early hours of Christmas Day morning.
Local resident Carol Dyer, who started the petition, said it was "absolutely pitch black" in her part of the road.
North Somerset Council said decisions to switch off street lights were carefully considered and investigated.
'Pitch black'
The authority added that various organisations, including the emergency services, were consulted and it would not be appropriate to comment further until a police investigation had concluded.
Street lights on the section of road where Mr Heal died are turned off between midnight and 05:00 GMT.
Mrs Dyer added: "I have contacted my local councillor and am waiting to hear back about attending the next council meeting to take the petition to the councillors.
"Since November we have noticed the lights being off and it is absolutely pitch black in our area of Kenn Road."
There are more than 20,000 street lights in North Somerset and North Somerset Council is mid-way through a three phase process of changes to night lighting.
By March 2013, around 80% of its street lighting will either be dimmed or partially lit.
Tom James, 18, a friend of Mr Heal, said walking down Kenn Road after midnight was "just like walking down a country road".
He said one street light remained on but that was where the road was clear, not where the road narrowed because of parked cars.
Chairman of Clevedon Town Council, Chris Blades, said reduced lighting was a "very good thing" if it was practical and it currently helped save £800,000 a year.
"There are a lot of people for it, and a lot of people against it, as in everything in politics," he said.
"Realistically I think the pros outweigh the cons many times."