Bath towpath closed for repairs to Victoria Bridge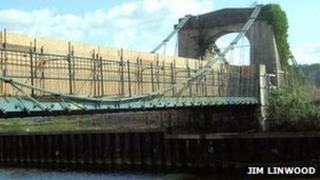 A towpath by a 19th Century footbridge in Bath has been closed for repair work to be carried out on the bridge.
Victoria Bridge is being propped up on both sides of the river later this week and a temporary closure of the towpath has been enforced for safety reasons.
Work is expected to last a few days and the path on the northern side of the river reopened shortly afterwards.
The listed structure was closed to the public over a year ago after weaknesses were identified in the timber deck.
Signs and a diversion for pedestrians and cyclists will be put in place while the work takes place.
The towpath on the south side of the river will remain closed due to the Bath Riverside housing development works.
Bath and North East Somerset Council is liaising with English Heritage about a permanent restoration of the structure and will discuss a project plan at a cabinet meeting next month.