Anti-capitalists 'to stay' on Bristol's College Green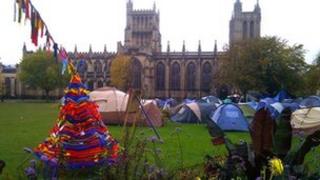 A protest by anti-capitalists on College Green in the centre of Bristol shows no sign of dispersing.
The group, which has been camped out for nearly two weeks, says it is protesting against the unfairness of modern society.
Both Bristol Cathedral, which owns the land, and Bristol City Council, which manages it, want the group to move on.
Protester Tony Cripps said they were planning to stay on College Green for "as long as possible".
"We're not under any pressure from the council - we spoke to them on Friday and they say they're planning to speak to us in a few weeks' time.
"The dean [of the cathedral] says we are trespassing, but that's questionable and we are looking into historic legalities of this.
"Occupy is not about making a noise and going home. We're here to effect change and, until that is happening, we ain't going anywhere."
'Ancient freedom'
BBC journalist Will Glennon said during the short time he was filming there on Sunday he saw at least another three tents put up.
Conservative MP for North East Somerset Jacob Rees-Mogg said the right to protest was an ancient freedom which should be preserved.
"But I don't think that includes the right to pitch a tent where you feel like it," he said.
"Standing there all night is a right and freedom but it is not your right to decide to live wherever you like."
Last week the leader of Bristol City Council, Barbara Janke, a Liberal Democrat, said there were currently no plans to evict the protesters.
But the Lib Dems, who run the council, said this could change if there was violence, criminality, public health issues or damage to buildings.
Also speaking last week, Peter Hammond, the leader of the Labour group on the city council, said he supported the camp.
"The position I take, along with my fellow councillors, is that at this point there is no justification for taking eviction action.
"If things can change... then we'll look at the situation again."