Bristol Free School to remain at Brentry site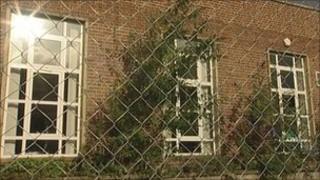 The largest secondary free school in England is to stay at its temporary home in Bristol, it has been announced.
Bristol Free School, located at the former Environment Agency and Defra building on Burghill Road in Brentry, opened last month.
Parents had hoped it would move to the site of the former St Ursula's school in Westbury-on-Trym.
The government said planning constraints and road access problems meant a move would not be possible.
A spokesman from the Bristol Free School Trust said the site would be developed to allow the school to accommodate 750 students and, if agreed in the future, a sixth form.
'Walking distance'
Blair King, chairman of Bristol Free School Trust, said: "Despite this site decision, we will not let down the local parents who have supported our school campaign.
"We will guarantee 120 of 150 year seven places every year to families in our Neighbourhood Partnership Area of Henleaze, Stoke Bishop and Westbury-on-Trym.
"The Burghill Road site, which is only a few hundred yards outside BS9, is within walking distance for many."
Parent Alistair Robinson, who has carried out his own survey of what people in North Bristol want, said he was "very disappointed" with the decision.
"There was a real hope that the school would fulfil the desires of the community," he said.
"I can't help but think having it outside the community will not help its chances of being a real flagship for the free school programme."
Barbara Janke, Liberal Democrat leader of Bristol City Council, said: "This decision by the Department of Education brings to a close a period of uncertainty for parents and children in this area of Bristol.
"However, I understand there are parents who will be disappointed not to achieve their aim of securing a new secondary school in BS9."