Bristol charity nurses emaciated foal back to health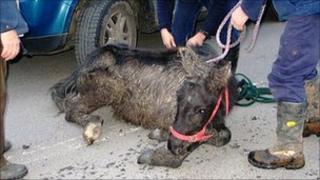 A foal left to die on the banks of the River Severn has been nursed back to health by a Bristol animal charity.
The emaciated yearling, named Severn-Up, was found near Avonmouth in February "helplessly collapsed" next to a grave that had been dug for it.
But after eight months of veterinary care at HorseWorld, the foal is ready to begin training to be ridden.
Manager Joanne Vaughn said she would never have believed "he would grow into the beautiful creature he is today".
She said: "Severn-Up was rescued just in time.
"He was found helplessly collapsed on the wet ground, cold, weak and covered in mud.
"He was literally at death's door - a grave had been dug next to where he lay, ready for him to be pushed into when he eventually died."
Abandoned on waste ground, on the banks of the River Severn, Ms Vaughn said he "would undoubtedly have died painfully" had the charity not taken swift action.
She added there was "no reason" why he could not be ridden when he was old enough and it was hoped he would be re-homed in the future.