Shrien Dewani: Wife's family make extradition plea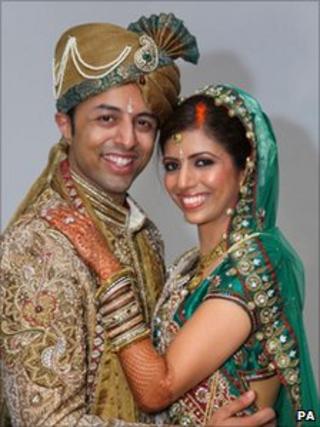 The family of Anni Dewani have pleaded with her husband not to appeal against the decision to extradite him to South Africa to stand trial over her death.
Shrien Dewani denies any involvement in the killing of his wife, who died after their car was hijacked in Cape Town.
On Wednesday, Home Secretary Theresa May approved his extradition but Mr Dewani, 31, has 14 days to appeal.
Ashok Hindocha, Mrs Dewani's uncle, said: "I really request to him, don't appeal - get closure of this case."
Mr Dewani, a care home owner from Bristol, has been detained at a clinic in the city.
He fought extradition proceedings on the grounds he was suffering from depression and severe post-traumatic stress disorder and was too unwell to face trial for the murder of his 28-year-old wife.
He also faces charges of conspiracy to commit murder, robbery with aggravating circumstances and obstructing the administration of justice.
Mr Hindocha said: "I firmly hope he does not appeal and prolong this unnecessarily.
"We're just happy that the justice system has worked the way it's supposed to. I see no grounds for him to appeal.
"The decision from Theresa May was well grounded."
Mr Hindocha said Mrs Dewani's "soul could not rest in peace" until a trial took place.
"All we want is to know what happened to her. We've lost a daughter we raised for 28 years. We cannot lose any more."
'Strong argument'
Mr Dewani's solicitors, Hickman and Rose, said they had no comment to make over Mr Hindocha's comments or over any potential appeal.
South Africa's National Prosecuting Authority (NPA) told the AFP news agency that it welcomed Mrs May's extradition ruling.
"The NPA is pleased with the decision of the home secretary and it confirms our strong view that indeed he is extraditable.
"We put up a strong argument... and we've done everything in our power to ensure that he is extraditable, so it's confirmation of what the judge had found."
Abandoned car
Mrs Dewani, from Sweden, was shot after a cab the couple were travelling in was hijacked in the Gugulethu township last November.
Mr Dewani was released unharmed but Mrs Dewani's body was later found in the abandoned car.
Mziwamadoda Qwabe, 25, and Xolile Mngeni, 23, are charged with murder, kidnapping and robbery with aggravating circumstances and will go on trial at the Western Cape High Court at a date to be set next year.
Taxi driver Zola Tongo, 31, from Bothasig, Cape Town, has been sentenced to 18 years in jail for murder, kidnapping, robbery with aggravating circumstances and perverting the course of justice after agreeing a plea bargain.
In December, Tongo told Western Cape High Court he was offered 15,000 rand (£1,400) by Mr Dewani to kill his wife.