Bristol Zoo gorilla sculpture stolen from Old Sodbury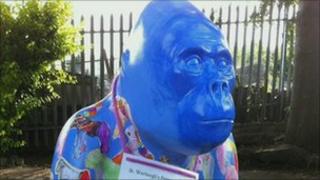 One of the gorilla's created to celebrate Bristol Zoo's 175th birthday has been stolen from a village.
The half-sized, brown gorilla decorated by children from Old Sodbury School was taken from the front garden of one of its sponsors.
Godfrey, which had the school logo on his chest was taken from a garden on Church Lane, Old Sodbury on Saturday evening.
The theft comes just weeks after a similar model named Werbert was taken.
Godfrey the gorilla was due to be auctioned off for charity.
Timmy Mallett
The owner of the garden it was taken from, Sarah Williams, said: "I'm just very annoyed and cross about it. He's got no monetary value so maybe someone thought it was just a bit of a joke.
"It's something that we feel quite embarrassed about and responsible for. We didn't expect, right outside our front door, that he would be taken."
The gorilla, was one of more than 100 half-sized models displayed at locations in Bristol which had been sponsored by local schools, as well as 61 life-sized models.
Earlier in the month a blue, half-sized gorilla named Werbert was taken from St Werburgh's City Farm and a sculpture in Clifton, created by television personality Timmy Mallett, was set on fire.
The police have been notified of the theft.