Bristol Zoo gorilla sculpture stolen from St Werburgh's farm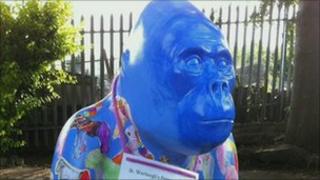 A sculpture of a gorilla, created as part of Bristol Zoo's 175th birthday celebrations, has been stolen from a city farm.
The gorilla, which was one of more than 100 and painted by local school children, was taken from St Werburgh's City Farm during Friday night.
Isobel Patrick, from the farm, said the children had put a lot of effort into "buying it and decorating it".
The gorillas have been placed at various locations in Bristol.
Recently one of the sculptures in Clifton, created by television personality Timmy Mallett, was set on fire.
Mr Mallett returned to the city several days later to repaint the gorilla, which was named Kingdom.
The gorilla in St Werburgh's, named Werbert, was a half-sized model which cost £400 and was due to be auctioned for charity.
There were 100 of the half-sized models at locations in Bristol sponsored by local schools as well as 61 life-sized models.
"It's sad for the whole community because it was a nice thing to come and see," Ms Patrick said.
"They trusted us with it and now it's gone and we're feeling awful."