Bristol Zoo's nine baby flamingos a 'great achievement'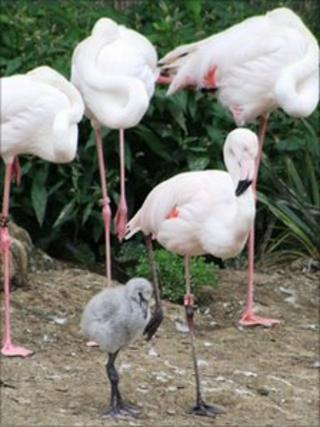 Nine flamingo chicks have hatched at Bristol Zoo in the past two months in what has been hailed as a "great achievement".
A zoo spokesman said it was the largest number of baby flamingos the attraction had ever had.
He attributed the success to keepers creating "perfect" sites for nesting.
The team has been putting the eggs into incubators until they are due to hatch before returning them to the nests, he said.
Nigel Simpson, Bristol Zoo's curator of birds, said: "Successfully breeding nine chicks is a great achievement and I'm really pleased.
"It's the most we've ever bred at the zoo in one year."
The flock of greater flamingos now numbers 38 birds.