Balloons take to sky on final day of Bristol Balloon Fiesta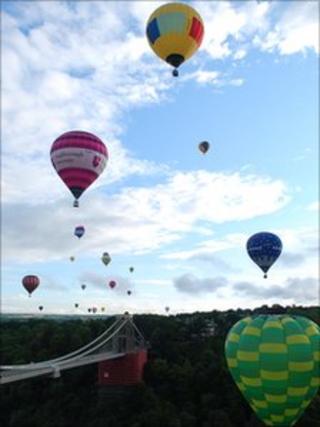 Ninety-six hot air balloons have taken to the sky on the final day of the Bristol International Balloon Fiesta.
The morning lift-off went ahead at the festival site at Ashton Court.
However, a mass ascent of balloons, which was to take place in the evening was called off because of windy conditions, organisers said.
The theme for this year's fiesta was Made in Bristol as the event celebrates the 40th anniversary of local balloon manufacturer Cameron Balloons.
Visitors were treated to a Sunday evening aerial display by the Royal Air Force's Red Arrows.
'Wonderful sight'
Organising committee member Jane Oakland said the morning lift-off had gone to plan.
"I'm standing here just looking over the city at that wonderful sight of balloons as far as the eye can see," she said.
She said the weather had "done us proud" although later windy conditions prevented the planned evening ascent.
Saturday morning's mass ascent was also cancelled due to strong winds, but the evening's ascent saw 85 balloons take to the sky.
The nightglow, which sees balloons glowing in time to music, and fireworks rounded off Saturday's events.