Richard II silver groats 'could sell for £1,000'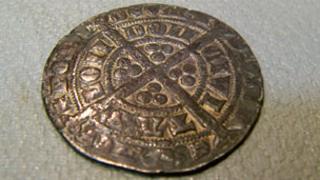 Two silver coins dating back to the 14th Century which were found in a Wiltshire garden could sell for more than £1,000, an auctioneer has said.
The groats, from the reign of Richard II, were dug up at a house in Sherston near Malmesbury in the 1960s.
According to the auctioneers, the seller had "sat on them" for years with "no idea" of their worth.
The coins will be auctioned, with a reserve of £400, at The Chippenham Auction Rooms on 20 August.
Measuring 25mm across, the hand-beaten coins were identified as silver groats by auctioneer Gordon Brockman.
"When the client first brought the coins in, I thought they were Richard III groats," he said.
"But I compared the coins to some images online and worked out that they were Richard II.
"They look very similar but there's a difference in the three dots in the centre of the coins and in the way the hair falls on the king ."
Richard II reigned for 22 years from 1377 to 1399 which, according to Mr Brockman, could mean that as few as 800 coins are still in existence.
"Richard II wasn't around for that long and these coins are in remarkably good condition so we've put them in at between £400 and £600," he said.
"But we'll see."