City prepares for Bristol International Balloon Fiesta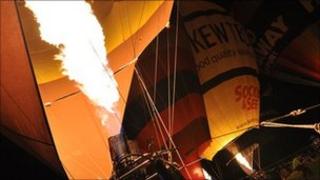 Last minute preparations are taking place ahead of Bristol's International Balloon Fiesta at Ashton Court.
Thousands are expected to head to the site for Thursday evening's nightglow at 21:30 BST, where tethered balloons light their burners in time to music.
A mass ascent of balloons is scheduled for 06:00 and 18:00 BST on Friday, Saturday and Sunday.
Other attractions include arena events during the day and a flying display by the Red Arrows on Sunday at 17:00 BST.
'Breezy conditions'
A second nightglow is also planned for Saturday evening.
Breezy weather conditions meant the planned special shapes ascent at 18:00 BST, which was due to open the fiesta, had to be cancelled.
BBC weather forecaster Ian Fergusson said: "The wind will moderate this evening for the nightglow, which will be held under mostly cloudy skies with perhaps a bit of drizzle.
"Friday's early mass ascent will see favourable winds but a low and extensive cloudbase so we'll need to see if conditions are flyable."
For safety reasons, Clifton Suspension Bridge will be closed to traffic and pedestrians between 18:00 BST on Thursday and 02:00 on Friday, and from 18:00 on Saturday to 02:00 on Sunday.
An event spokesman said people should leave extra time for their journeys, especially around the time of the nightglows and the Red Arrows display.
The theme for this year's fiesta is Made in Bristol as the event celebrates the 40th anniversary of the Bristol-based balloon manufacturer, Cameron Balloons, founded by ballooning pioneer Don Cameron.
Full details about getting to the Ashton Court by car, bus or on foot can be found on the fiesta's website.
Entry to the fiesta is free but there are charges for parking.