Extra police drafted in to Bristol over disorder worry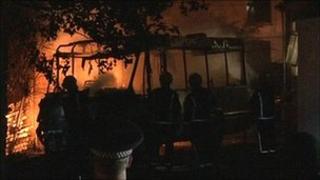 Additional police have been drafted in to Bristol, some in armoured vans, to quell any disorder which may break out.
The officers have been brought in by Avon and Somerset Police, although the number of extra police and where they have come from has not been released.
Assistant Chief Constable John Long said he wanted to "keep visibility high".
Police have so far arrested 26 people including two people who have appeared in court and been remanded in custody.
Avon and Somerset Police said it had taken "robust action" to avoid a repeat of the scenes of violence and disorder which happened on Monday night.
The force has also started a Facebook page showing 'mugshots' of people they want to talk to and video footage of various incidents in the city.
Mr Long said: "The internet is a powerful tool and just one of the ways we are tracking down the small minority of criminals who have caused damage and destruction."
On Monday night in Ashley Road a minibus was set on fire and there were reports of a number of small fires in litter bins.
Many shopkeepers and publicans had boarded-up their premises to guard against damage.
Court appearances
Michael Coffey, 47, and a teenager who cannot be identified for legal reasons, are accused of offences linked to violent disorder in the Stokes Croft and St Pauls areas of the city on Monday night and the early hours of Tuesday morning.
Mr Coffey, of Whitefield Road, Bristol, appeared before Bristol Magistrates' Court on Wednesday. He did not enter a plea to the charge and was remanded in custody.
The male youth, who lives in Bristol, appeared at a youth court hearing accused of violent disorder and assaulting a police officer on Monday.
He pleaded not guilty to the charge and was also remanded in custody until 19 August.
BBC reporter Clinton Rogers, who spent the night in the city, said there was some tension on the streets but it appeared quieter than the pictures he saw from Monday night.
"I saw little evidence of any violence and only witnessed one person being arrested. Where groups of people started to congregate police quickly moved them on," he said.
"Although the police wouldn't tell me how many officers were out, I could see they were out in numbers.
"Shopkeepers and publicans were taking precautions with many of them boarding-up windows to prevent a repeat of Monday night's damage."
Since the disorder began on 8 August, 26 people have been arrested on suspicion of various offences including violent disorder, criminal damage and assaulting police officers in the execution of their duties.