Bristol disturbances: 'Felt as real as London violence'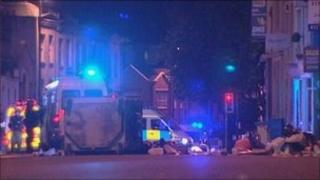 Driving around the city you would hardly know there had been a major disturbance here less than eight hours ago.
The roads have been swept and commuter traffic has been travelling into the city as normal.
But if you know where to look the signs of the trouble are there.
The burnt-out car in Wilder Street, the boarded-up window of McDonalds in Cabot Circus, both indicate the uglier truth.
The scars on Bristol are not as vivid as those in London but on Monday night it seemed just as real.
I was asleep when I got a phone call from one of our cameramen, who said there was a lot of trouble in Stokes Croft and St Pauls and "what should I do?".
'Chasing shadows'
We agreed to meet at the BBC in Whiteladies Road and picked up the equipment we needed for the job.
When we arrived about 01:30 BST it felt rather reminiscent of the Stokes Crofts disturbances, in April.
It was all very tense with stones and bottles being thrown but this time police very definitely had the upper-hand.
There had been lots of talk on Twitter, implying the Cabot Circus shopping centre was going to be targeted.
After it quietened down in Stokes Croft we moved on to Cabot Circus where there was a lot of glass from the windows of a police car that had been smashed by a group of some 30 people, earlier.
We saw a jewellers, which had its windows broken, but the rest of Cabot Circus was remarkably unscathed.
Police had their work cut out with incidents flaring up in little pockets around the city but we felt as if we were chasing shadows.
One officer told me they were getting ready to go to London to assist the Met with their troubles so were instantly available to help when the call came.
They were not going to be drawn on what might happen next but were very confident they could deal with it robustly.
It has now emerged that the Bristol City v Swindon Town match, which was going to be played at Ashton Gate later, has been cancelled for safety reasons.
Police forces across the country are going to be very cautious about what might happen over the next 24 to 48 hours.