Plimsoll Bridge may reopen on Monday after lorry spill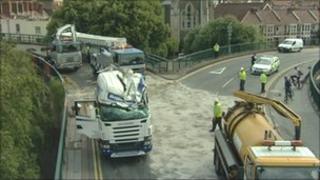 A busy Bristol bridge that closed after a lorry carrying 20 tonnes of animal feed tipped over may not reopen until Monday, the council says.
Emergency services were called to Cabot Way, which links the A4 Portway with the Cumberland Basin system, on Thursday morning.
A council spokesman said spilt diesel had wrecked the road surface on the A3029 Plimsoll Bridge.
Work to repair it was likely to begin on Saturday, he said.
Traffic in the area was reported to be heavy on Friday with long queues on the A4 Portway approach to the Cumberland Basin system.
The Clifton Suspension Bridge, which normally charges a 50p toll, earlier lifted its gates without requiring payment in an attempt to clear the backlog. It began charging normally again in the evening.
The driver of the lorry was treated for shock but was not seriously injured.
Motorists are advised to avoid the area. A short diversion is in place via Cumberland Basin Bridge.
The accident is in the same place as where a lorry carrying flour flipped on to its side in 2006.