No places for 35 children at Bristol Free School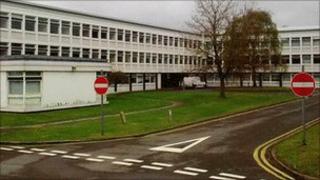 Bristol Free School has told 35 children they will not be given places when it opens in September.
The children, all aged between 12 to 16, are currently at Oasis Westbury School but were hoping to enter years 8 to 11 at the new school.
Despite suggestions there would be places, the school's trust said that the students must now go elsewhere.
A letter to parents said the decision had been taken after "detailed consideration and some soul-searching".
Some of the children had previously attended St Ursula's School before the private school got into financial difficulties.
It was bought by Bristol City Council for £1.95m and replaced by Oasis Westbury on a one-year deal.
That school is now to be replaced by a primary academy run by E-Act and Bristol Free School which will only be taking year 11 children.
Bristol Free School only confirmed it would be opening on 16 May after final approval from the government.
The Bristol Free School Trust, together with Bristol City Council and the government, is now investigating the possibility of opening a separate private school at the old St Ursula's just to accommodate the 35 children.
The letter, from chairman of Bristol Free School Trust Blair King, said allowing the secondary-age students to attend the new school would leave the trust open to legal challenge.
A "poor spread of students" across the four year groups would also mean that the "organisation of teaching and curriculum" would be "extremely difficult and costly", according to Mr King.
A statement from Bristol City Council read: "We understand that the Bristol Free School is unable to offer any places above year 7 for pupils from Oasis Westbury.
"Our admissions team are available to help and advise any parents wishing to apply for a secondary school place for September.
"Local schools will be able to accommodate families for visits."