Bath cafe Jika Jika drops baby food 'corkage' fee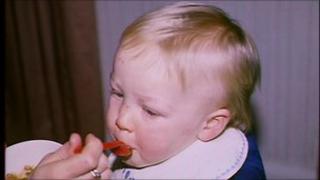 A popular cafe in Bath has dropped a "corkage" fee for parents who bring in their own baby food.
Jika Jika, owned by rugby players Lee Mears and Matt Stevens, had introduced a £1.40 charge.
Writing on the Bath Mums internet forum, one woman said she thought the fee was "outrageous" and alienated mothers.
The cafe said on Monday that all the money taken to date would be donated to the NSPCC.
It said the surcharge was a "wrong move for many" and it was happy to withdraw it.
The coffee house charges £1.40 for its own organic baby food.
One mother, posting under the name Holey, said: "I asked one of the staff why this has happened and they feel that some mums take advantage of the high chairs and changing facilities they offer for free (where doesn't offer it for 'free'?).
"The other alternative is to buy from their limited selection of baby food.
Breastfeeding
"I used to go in there during off-peak times and bolster their sales by buying lots of coffee and often staying on for lunch - they must be raking it in from mums and this is how we are repaid?
"I cook most of my son's food and I don't want to be charged for feeding it to him or else be forced to buy a sachet."
Another poster wrote: "That's outrageous.
"I used to go there all the time with my little one before I went back to work. Mums are their main client base - I think it's disgusting."
Another mother, under the name Mrspope, wrote: "Incidentally do you face this charge if you are breastfeeding?"
The cafe's manager Paul Whitehead said: "We introduced our children's menu at the start of the year, including organic baby food.
"Rather than excluding homemade food completely from our premises, we introduced the surcharge to enable parents to feed their children something homemade in our cafe.
"Since this was clearly a wrong move for many, we are happy to withdraw the surcharge from the children's menu, which we will be reviewing.
"Furthermore we will donate everything we have made from the surcharge to the NSPCC, a charity chosen by our owners. We will then be concentrating on our conventional menu."