Student protests in Avon and Somerset cost police £77k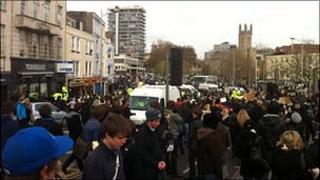 More than 1,800 police officers were used to deal with nine student protests in the Avon and Somerset force area and cost £77,000.
The spending levels were revealed after a Freedom of Information Act request.
For the first protest, on 24 November 2010, 97 officers were involved and 2,000 people protested.
A police statement said protection of life and property was paramount but the Bristol Students' Union blamed outsiders for trouble on the marches.
James Ashton Bell, president of the Students' Union at the University of Bristol, claimed the first protest had been hijacked.
'Other elements'
"We were the vast minority on 24 November and it turned particularly ugly when some of the protesters who weren't from our organisation then turned on us and tried to break into our building.
"I think when you're dealing with something like political rights it can attract other elements from outside, which can be very dangerous.
"I think most people would hopefully support the police in trying to create a buffer."
On 30 November, 256 officers were called in for a second protest which saw another 2,000 people march.
But for one of the demonstrations, where students targeted Bristol West MP Stephen Williams' surgery, more than 250 officers arrived to police less than 100 protesters.
Mr Williams said he was not surprised at the overall cost for the protests and said the police could not have predicted the low turnout at his surgery.
'Proportionate' response
"It's not the police's fault, they had to plan on anticipated numbers," said Mr Williams.
"There had been demonstrations in London and then Bristol which had attracted hundreds of thousands of people.
"I think it's quite possible that when that particular demonstration against me took place that people had got demo fatigue.
"If people who attach themselves to these demos had blocked College Green or occupied HSBC then people would be asking why there weren't enough police."
Avon and Somerset police said their response was "proportionate" and a detailed threat and risk assessment was undertaken before each protest.
"Our operations and resources are based on intelligence with information coming from a variety of sources."
Avon and Somerset Police Authority, which oversees the constabulary, said they could not comment on operational police matters.
Nigel Costly from the TUC said well-organised marches cost less to police but troublemakers would push up the cost.
"The police have to make a judgement as to whether other characters are going to tag on and try and cause trouble."