Confusion over new signs at Bath Royal United Hospital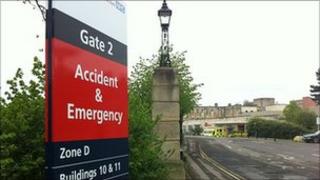 A new set of signs installed at Bath's Royal United Hospital (RUH) is causing confusion for some patients.
The hospital has spent £150,000 on the revamped signage, directing visitors to numbered zones instead of departments.
"I had no idea where I was going," said David Whewell, who has complained to the hospital. "I had to help three different people who were also lost."
RUH says the new approach is an improvement on the "archaic" signs it had for more than 30 years.
"The old system didn't work either. People were getting lost with all our old signs," said Howard Jones, director of estates at RUH.
'Logical system'
A firm of consultants was brought in to work on the system which is based on a concept called "intuitive wayfinding".
"It's been designed with a lot of consultation with staff and our volunteer guides and we've employed experts in wayfinding who have managed very large sites," said Mr Jones.
"It's a very logical system which flows through the hospital - it just takes some time to get used to.
"It's very future-proof as well and means that we won't have to be forever changing signs as we were in the past."
Updating signs at the hospital was costing about £20,000 a year, RUH said.
Signs 'de-humanised'
Mr Whewell has been to the hospital several times since the signs were installed, as a visitor and an outpatient.
The hospital is sending out maps with appointment letters but Mr Whewell said he did not get one.
"My letter just told me to go to X-ray. What I had to do was go and find a map which explained where X-ray was.
"It doesn't feel simpler to me. It actually feels as though they've de-humanised the process.
"Zones and numbers don't equate on a human scale."