Bristol hospital gets 'revolutionary' cancer scanner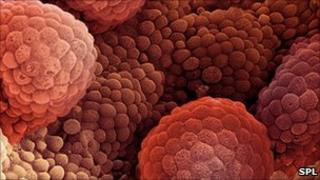 A "revolutionary" new cancer scanner is being used by scientists at Bristol's Southmead Hospital.
The Circulating Tumour Cell (CTC) machine looks for cancer cells in blood samples of patients with prostate, breast and colon cancers.
Doctors believe it will improve conditions for sufferers by giving them more detailed information, including more accurate medication and treatment.
The £110,000 machine is the first to be based outside of London.
"It's fairly revolutionary in Bristol. These machines are high-tech, they are cutting edge," said Professor David Gillatt from the Bristol Urological Institute.
"It's a great step forward for Bristol's prostate cancer research."
Senior research technician Dr Caroline Jarrett is one of those who will be using the CTC machine.
"It's incredibly exciting. I'm really looking forward to it.
"I have to go on an intensive training course so that I can use it. I'm really excited, I think it's a brilliant piece of equipment."
The Friends of the Bristol Oncology Centre and the John James Bristol Foundation raised half of the money needed for the machine, which was then matched by the Higher Education Funding Council for England.
Friends chairman John Miles, who himself had prostate cancer, said early detection of the disease was vital.
"I discovered it 11 years ago. If you find out early enough with prostate cancer there's a very good chance of a cure."
Cancer patients at both Southmead Hospital and the Bristol Haematology and Oncology Centre will benefit from the equipment.