Meeting could decide Bristol Free School future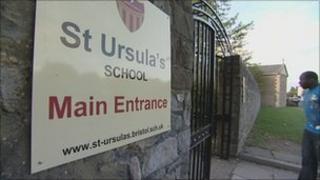 The future of a proposed new free school in Bristol could be decided at a meeting on Monday.
Bristol City Council is due to meet with the Department for Education (DfE) to discuss what happens to the former St Ursula's school site.
The Bristol Free School wanted to run it as a secondary school while the city council wants a primary school there.
But a meeting between the council and the free school a week ago agreed it could be used for both.
The private St Ursula's School went into administration in 2010 and Bristol City Council spent £1.95m buying the site.
Oasis Education was then given a one-year deal to run it as a primary school.
A Bristol Free School spokesman said it was agreed that the site could support additional primary school places, and the secondary school.
The meeting will examine how the site would be used and funding in more detail.
Bristol City Council's Liberal Democrat leader Barbara Janke said they were working had to get the DfE to "come to view, publish it [the plan] and then we can take action".
"I am working with officers to try and come to a resolution about what will happen on this site," she said.