Women football players 'tough it out' through injury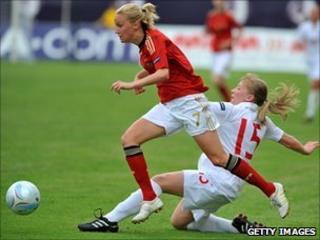 Women footballers play through painful injuries during matches to prove themselves, according to new research.
Scientists in Bristol claim women are more robust due to psychological and sociological factors which affect their attitude to pain, injury and risk.
A team at the University of the West of England (UWE) studied players including members of the England women's team.
Sociologist John Bird, who headed the research team, said women had an ethos of "toughing it out".
The study of female footballers comes as the role of women in football is in the headlines after sexist remarks were made about assistant referee Sian Massey.
Sky Sports presenters Richard Keys and Andy Gray commented on 25-year-old Ms Massey's appointment for the game between Wolves and Liverpool on Saturday.
'Offside rule'
Believing their microphones were off, the pair agreed female officials "don't know the offside rule".
Both men have apologised but Andy Gray has subsequently been sacked.
The study by UWE looked at female players ranging in age from the under 10s to adults and found women often play down pain and injury when they talk about it.
"They believe they have to ignore injuries, for example, to keep their place on the team or to support the team," said Mr Bird.
"They come to see pain and injury as an 'occupational hazard'."
Mr Bird carried out 41 interviews with players and support staff from the England women's team, a Football Association (FA) Centre of Excellence, a further education college team and a Football Academy team.
He said he found women would want to play despite injury or would lie about having treatments so they could say they were fit.
"I discovered a complicated set of reasons why players continue to play even when they are injured or in pain," he said.
"They believe they have to be risk-takers, they want to keep their place on the team and don't want to let others down."
Pain 'normalised'
Anne-Marie Heatherson, 26, who plays in the Super League for Bristol Academy Women's FC, said in her experience, women's attitude to pain and injury reflected their commitment.
"I think it varies with each girl," she told BBC Bristol. "There are some who - once the pain starts - will chicken out, but if a girl really wants to be there and has passion she will play through it.
"If you want to play at the highest level, like I do, you will take risks. If you want it that much you will play through injuries and pain. It's all part of the experience."
But she added she thought it was no different in the men's game.
The UWE research also found women tend to be negative about players who do give in to injury.
"In the elite system, between the ages of eight and nine, when they start, and 14-15, the girls are socialised into an understanding of pain and injury, learn to normalise pain and become tough risk-takers," he said.
Mr Bird added that while these factors also applied to male footballers, the women's game has fewer rewards, poorer facilities and is associated with masculinity, which can lead to women feeling they have to prove themselves by being more tolerant of pain than men.
"I discovered that there is a lot of pain and injury that does not get reported, and is accepted by the players."