Police investigate lawyer 'death threats'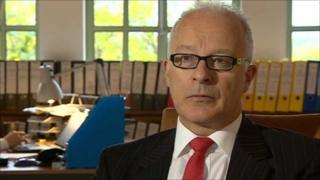 Police have confirmed they are investigating apparent death threats sent to a Birmingham lawyer.
Phil Shiner, who works for Public Interest Lawyers, said the threats against him and his family "need to be taken seriously".
Mr Shiner said the threats appeared to come from people who objected to his work as a human rights lawyer.
West Midlands Police said it was investigating.
'Armed bodyguards'
Sgt Jacqueline Morrin said: "We are currently investigating allegations of malicious communication whereby 17 emails have been received by [Mr Shiner's] company.
"One of the malicious communications is being dealt with as racially motivated."
Mr Shiner, who has been involved in a number of high-profile cases, including that of Iraqi detainee Baha Mousa, said: "I have had to make expensive changes to our office security systems, and I have been advised I should insist the state pays for armed bodyguards.
"The threats made against [the firm], my family and me are distressing, to say the least.
"I have been advised by many senior members of the legal profession to take these threats seriously."
The Law Society, which represents solicitors, called on Justice Secretary Chris Grayling to "ensure proper inquiries are made into the threats" and protect Mr Shiner.
It said it had also written to the chief constable of West Midlands Police "urging all sensible steps are taken to protect lawyers in this firm."