Birmingham school's former governors 'banned from site'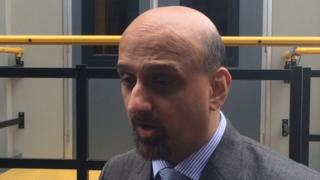 A council which has been attempting to change the leadership at a Birmingham school says it has banned the former governors from the site.
Al-Hijrah School, in Bordesley Green, was placed in special measures by Ofsted last year.
Birmingham City Council said it had tried three times to replace the governors but had been turned away.
One former governor said that, as a parent with a child at the school, he had "a right" to visit the site.
'Desperate'
In a statement, the council said the school's new governing body - known as the interim executive board - had sent letters to the former chair of governors, Waseem Yaqub, and other governors banning them from the school site "with immediate effect".
It said the board had "tried to go about its lawful business but has been turned away each time by the school".
It added: "The refusal of the previous governing body is unprecedented.
"Despite a year with five Ofsted reports... the former governing body still has a complete lack of insight into the issues and their severity."
It added the school had a deficit of £889,000.
However, Mr Yaqub said, as a parent with a child at the school, he had "a right" to go there.
"This is just further intimidation and harassment by the local authority of parents who want to be involved in their child's education," he said.
"The council is desperate and is getting increasingly aggressive."
The council has said the Islamic school is not one of 25 being investigated as part of the Trojan Horse inquiry into an alleged plot by Muslim hardliners to seize control of governing bodies in Birmingham.