Collapsed Kings Norton house to be partially demolished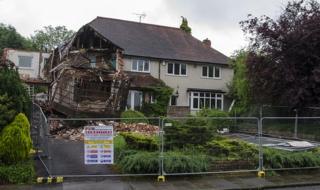 Demolition work has started on a house in Birmingham that partially collapsed.
A "large portion" of the detached property in Beaks Hill Road, Kings Norton, fell down on Monday afternoon.
A construction crew began a partial demolition at the house shortly before 14:00 BST. A cherry picker was used to remove some walls and timber from the damaged section.
The Health and Safety Executive (HSE) is investigating what caused the collapse.
Brian McGarry, from PBM Contractors, said: "We are making the structure as safe as possible so people can get back inside and look around."
After the work is completed HSE officers and insurance officials will continue their assessment of the site, he said.
The owner of the neighbouring house said the two-man demolition team were working to remove an end wall which safety inspectors had classified as "imminently dangerous".
"The worry at the moment is that it's in a very precarious position and it could fall on our house," said the woman, who did not want to be identified.
"We've had to stay with my brother in Sutton Coldfield since it happened."
Other residents reported hearing a loud noise when an extension to the house, containing bedrooms and a garage, fell down.