Birmingham City Council: 'Challenging agenda' attracted Mark Rogers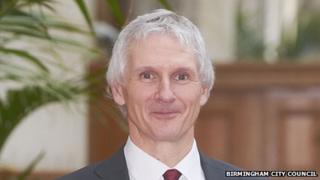 The new chief executive of Birmingham City Council has said he was lured to the £180,000-a-year job by a "challenging set of agendas".
Former Solihull Borough Council chief executive Mark Rogers has taken over from Stephen Hughes, who has retired.
Birmingham City Council must save £822m by 2018 and is trying to turn around an under-fire children's department.
Blogging on his first day in the post, Mr Rogers said he was from "the real world".
'Keeping promises'
"Why Birmingham? Well, it stems from a desire to work with great people, in a great city, on a truly exciting, albeit very challenging, set of agendas," said Mr Rogers, a former headteacher who has two sons with his wife Kate.
"Why wouldn't I want to come to a place where there are so many opportunities to make a positive difference and, at the same time, be stretched professionally."
Birmingham City Council's children's department has faced criticism after deaths including that of two-year-old Keanu Williams.
In December, the authority revealed a multi-million pound improvement plan and said it had been failing children for five years.
Mr Rogers, who worked as director of children's services in Solihull, said he would expect openness, honesty and kept promises from all council workers, including management.
It is understood his predecessor received a salary closer to £200,000-a-year.
Mr Rogers added: "I am aiming to ensure a presence across our organisation that can only be achieved by having a shared commitment to being empathetic and doing the right things."