'Insane' Ward End mosque attacker detained indefinitely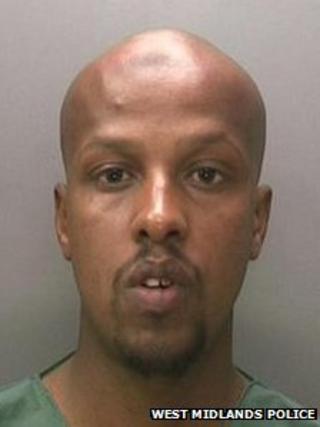 A man who stabbed a policeman and worshippers at a mosque in Birmingham must remain in a secure hospital indefinitely, a judge has ruled.
Mohamoud Elmi was deemed insane by a jury at Birmingham Crown Court.
PC Adam Koch and two worshippers at the Madrassa Qasim Ul Uloom centre, Ward End, suffered "near fatal" knife wounds.
Elmi, 32, who suffers from schizophrenia, was cleared of attempted murder by reason of insanity.
He is currently being treated at a secure hospital.
'Not a punishment'
In returning the "special" verdicts, jurors ruled that Elmi had carried out acts which amounted to attempted murder and wounding.
Jurors heard how Elmi calmly walked away from his initial "frenzied" attack on two fellow worshippers at the mosque to pay a visit to a washroom.
Elmi, of Ward End Hall Grove, Washwood Heath, then returned to a prayer area before repeatedly stabbing PC Adam Koch, who attempted to subdue him with a Taser.
Passing sentence, Mrs Justice Carr said the victims had been subjected to a "terrifying and unprovoked" ordeal.
Addressing Elmi, the judge told him his condition at the time of the stabbing, which occurred after he was discharged into the community following treatment, meant "neither your actions nor your thoughts were in your control."
The judge added the sentence was "not a punishment, but necessary for the protection of the public".
"Having heard and considered all of the expert evidence I am satisfied that, because of the nature of your offences and having regard to your mental illness and to the risk that you will commit further offences if you are not detained, a restriction order is necessary to protect the public from serious harm."