£3m boost for Dudley Canal Tunnel and Limestone Mines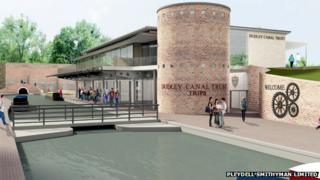 A new visitor centre and bridge will be built at a West Midlands tourist attraction as part of a £3m revamp.
Dudley Canal Tunnel and Limestone Mines has received funding from the European Regional Development Fund, the Heritage Lottery Fund and other trusts.
The visitor centre will tell the history of the canal tunnels and mines and the bridge will link the attraction to the Black Country Living Museum.
Bosses said the investment would attract thousands of new visitors.
It is hoped work will start in the summer and be completed next year.
Dudley Canal Trust (Trips) Ltd chairman Jeff Luesley said: "This is fantastic news."