Steve Evans: cancer victim's hospice donations soar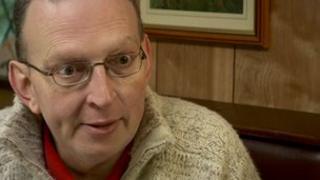 A hospice appeal set up in memory of cancer patient Steve Evans whose inserts on Richard Bacon's 5 Live show won him many followers, has raised more than £5,000.
The former Wolverhampton City Council worker died last week at the age of 52.
He regularly spoke on Bacon's BBC Radio 5 Live show. The presenter said he had lost "a great friend".
A webpage set up on Saturday to raise money for Compton Hospice has received pledges of £5,700.
More than 26,000 people - whom he called his "extended family" - followed Mr Evans' blog and Twitter updates.
Mr Evans' daughter, Megan, announced her father's death on Thursday, saying he had passed away peacefully in his sleep.
Colleague Sue Oakley set up the JustGiving page to raise money for the hospice.
She said Mr Evans had "touched the hearts of thousands and was a great inspiration to fellow cancer sufferers".
Mr Evans is survived by wife Septina, and daughters Megan and Lauren.