Men told to repay Birmingham terror plot cash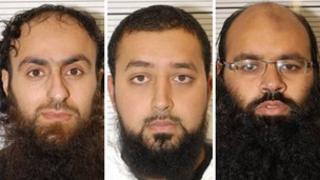 Six men convicted on terrorism charges have been told to pay back more than £33,000 stolen to fund their activities.
Irfan Naseer, Irfan Khalid, Ashik Ali, Rahin Ahmed, Bahader Ali and Mujahid Hussain were jailed for their part in a plot to rival 9/11, the court heard.
The group also posed as charity workers on the streets of Birmingham to raise money for their activities.
Police said the men had now been given three months to repay the money.
Their assets have now been seized under the Proceeds of Crime Act.
In sentencing the men in April, the judge Mr Justice Henriques said ringleader Naseer had been planning to turn part of Birmingham into a "little war zone".
Help for homeless
The jury was told the men - part of a group of 11 - pretended to collect money on behalf of Muslim Aid and raised £12,000 for themselves.
They were also forced to apply for tens of thousands of pounds in loans after losing more than £9,000 of the money playing foreign currency markets.
West Midlands Police said of the £33,032 funds the group had been ordered to pay back, the majority would go to Muslim Aid.
A spokesperson for the charity said: "We welcome the confiscation order and the decision by the judge to pay a majority of the proceeds to Muslim Aid.
"The funds received will be used toward providing help to the homeless and the hungry in Britain."