Walsall illuminations lights to be sold off by council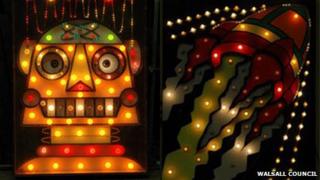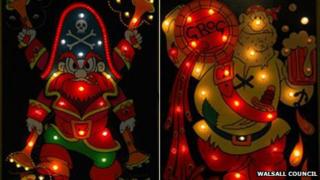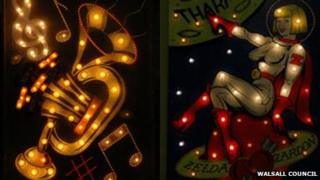 Hundreds of light boards from the Walsall Illuminations have been put up for sale by the borough council.
The event was last held in 2008. It was scrapped after Walsall council revealed it was losing about £150,000 a year because of falling visitor numbers.
The boards, which will go on sale from Monday, include illuminated pirates, dinosaurs and a giant robot.
They will cost about £50 each and profits from any sales will be put into council funds, the authority says.
Up to 200 boards could be sold in total with some eventually being put on to online auction sites, the council said.
Councillor Anthony Harris said: "We wanted people from Walsall to be the first in the queue to get hold of the memorabilia, which we know reminds a lot of people about their childhood and visits to the illuminations."
He said that not all the boards would be sold and some older ones would be used for historical exhibitions in the town.
The Illuminations at the Walsall Arboretum launched in 1951 as part of the Festival of Britain.
The final event in 2008 was held before a £7.6m restoration of the arboretum.