Birmingham bag-snatcher jailed for woman's death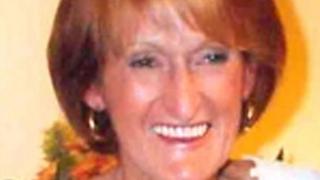 A bag-snatcher who fatally injured a Birmingham grandmother during a mugging has been jailed for 11 years.
Marvin Blake, 37, of no fixed address, admitted killing retired care worker Carole Mudie, 68, of Hawkesley, as she walked from her car to her house after a night out at bingo in January.
Blake, who also admitted charges of robbery and theft, broke Mrs Mudie's hip during the attack.
Birmingham Crown Court heard Mrs Mudie died in hospital following the assault.
Mrs Mudie's daughter, Cary Healey, described her mother as "bubbly, happy and with a great sense of humour".
She said: "My mum was my best friend, a fun-loving selfless lady who lived for me and my children. Unfortunately no sentence will ever ease our loss."
Sgt Andy Bradley said: "Blake would hang around places he was likely to encounter elderly ladies: retirement villages, post offices and community shops.
"He specifically targeted the most vulnerable members of society.
"Expert medical opinion deemed Mrs Mudie's death was premature and undoubtedly brought on by injuries she sustained during the robbery."