MCM Birmingham Comic Con and Memorabilia events open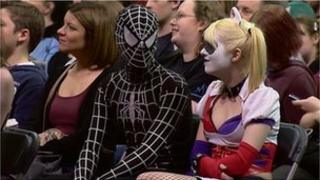 Creatures and characters from the world of sci-fi, comedy and film are gathering in Birmingham this weekend for what is being hailed as "the biggest collectors' event in Britain".
MCM Birmingham Comic Con and Memorabilia are both at the NEC on Saturday and Sunday.
Actors from Red Dwarf, Quadrophenia and EastEnders are among those attending.
Fans of Dr Who will also get to meet stars and creators of the show ahead of its 50th anniversary celebrations.
A spokesman for the events said: "This weekend in Birmingham wraps up a record-breaking 2013 by bringing a holiday helping of geeky goodness back to the Midlands."
The comic con event has already been staged in London, Manchester and Glasgow this year. This is the first time the two conventions have joined forces in Birmingham.