Vigil for Birmingham pub bombing victims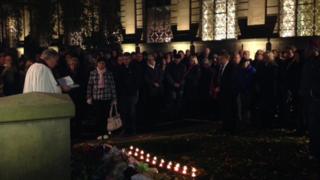 A candlelit vigil has taken place to mark the 39th anniversary of the Birmingham pub bombings.
Twenty one people were killed when two bombs exploded in the Tavern in the Town and The Mulberry Bush pubs on 21 November 1974.
More than 100 people attended the vigil in the grounds of Birmingham Cathedral on Thursday evening.
Twenty one candles were lit and the crowd was given a moment to reflect on those who died .
Canon Nigel Hand said prayers and read out the names of those killed in the explosion. He also called for justice for the victims.
Six men were jailed for the bombings, but their convictions were quashed in 1991.
'Innocent Brummies'
Among those present at the vigil were Julie and Brian Hambleton, whose sister Maxine was killed aged 18. They have called for the investigation to be reopened.
Julie Hambleton said 3,000 people had signed an e-petition backing the campaign as well as a 10,000-signature paper petition, which she said would be presented at Downing Street at some point in the future.
Another campaigner Mike Watts also addressed the crowd, saying: "We started this campaign because people from Birmingham have been ignored.
"Now we've started we're not going to go away. We want justice for the 21. We're fighting for innocent Brummies."
Cahil McElhinnery, whose brother Kevin was killed in the 1972 Bloody Sunday shootings in Londonderry, was also at the vigil and said he was backing the Hambletons' campaign for justice.
West Midlands Police said it had collated 10,000 documents and exhibits relating to the case and would respond if any significant new lines of inquiry came to light.