West Midlands fire boss Vij Randeniya to retire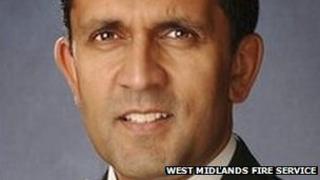 The head of the West Midlands Fire Service has announced he will retire from it later this year.
Vij Randeniya first joined the service 12 years ago and has been chief fire officer for the past four years.
Mr Randeniya, who was made an OBE in 2006, said he would be leaving the role this November.
He started his career in 1983 in London and also worked in Nottingham before joining the West Midlands service in 2001.
Coun John Edwards, chair of the fire authority, said: "Mr Randeniya has contributed a huge amount during his 30 years of service."
Last week, 53-year-old Mr Randeniya's resignation was formally accepted at a special meeting of the Fire and Rescue Authority.