Dudley Zoo snow leopard cub tests 'inconclusive'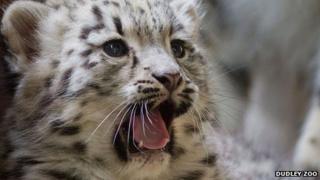 Vets' tests on a snow leopard cub that died at Dudley Zoo have so far proved inconclusive.
Eleven-week-old Nidara, the first snow leopard to be born at the zoo in 12 years, died suddenly on 19 July.
Zoo officials said experts had been unable to find out what killed Nidara, which means "fearless" in Hindi, and extra tests were taking place.
They said CCTV footage showed the cub's mother Nanga trying to nudge her back to life as she fell ill.
Nidara was known as Cub X until early this month, as zoo keepers were unsure of her sex.
They avoided human contact until that point to minimise the risk of infection to the cub.
'Rubbed faces together'
The zoo said there had been no previous indication there was anything wrong with the cub and her death came as a "complete shock".
Following the cub's birth, her mother and father, Margaash, were separated to make the environment as safe as possible for Nidara.
Since her death, the adults have been reunited.
Big cat keeper Adam Walker, said: "Nanga was clearly upset following Nidara's death but after a few days the pair began to rub their faces against each other through the mesh, so we decided it was time to get them back together.
"As they had been separated for quite a while we were on standby to act in case anything happened, but we needn't have worried, as the two greeted each other as if they had never been apart."
Jill Hitchman, from the zoo, said "all the indications" were that Nanga had been a good mother and had tried everything to help her cub.
She added: "That bodes well for the future - she was only a first-time mum but she did a really good job."