Walsall mosque bomb: Police issue photos of suspect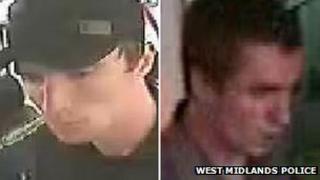 Police have released pictures of a man they want to speak to in relation to an explosion near a mosque in Walsall.
People near the Aisha Mosque, in Rutter Street, heard a "loud bang" shortly before prayers on Friday, 21 June.
A member of the public discovered debris from a device and took it to the mosque the following day, at which point the police were contacted.
The man detectives are keen to speak to is said to be white, in his 20s or 30s and of slim to medium build.
A West Midlands Police spokesman said the man should not be approached and are asking the public to contact them or Crimestoppers with any information.
A 75-year-old man from the town was arrested last month but has since been eliminated from enquiries.
West Midlands Counter Terrorism Unit is investigating the explosion as well as a similar incident near Kanzul Iman Masjid mosque in Tipton on Friday.
A statement from the unit read: "There is nothing at present to indicate these two events are linked but we have not ruled it out.
"Both investigations are being run by the West Midlands Counter Terrorism Unit and are closely aligned"